T
HE
B
LACK
E
ARTH
/
P
OSSESSIONS
---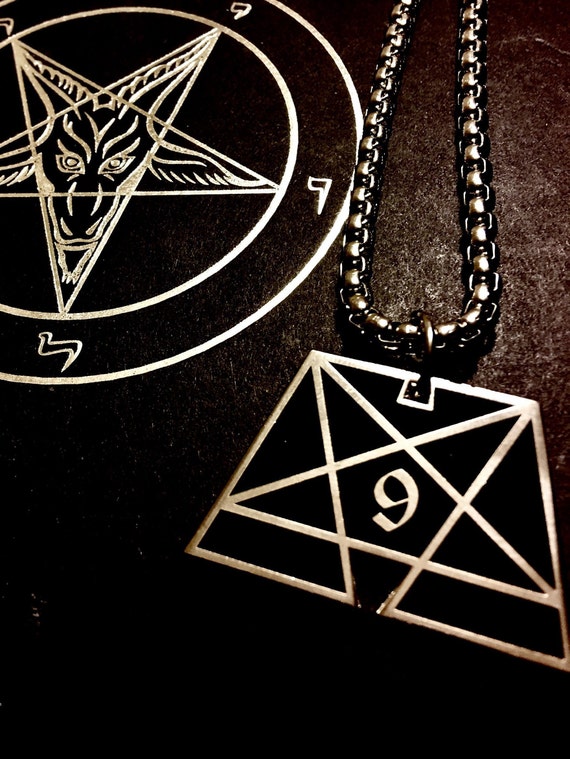 P
ENTRAPEZOID
Year LIV. Shady Veneration. Jewelry: Medallion
To Myself, just ordered the Law of The Trapezoid pendant medallion. I intend on wearing the Trapezoid pendant high upon the neck area abouts the collar, perhaps festooned upon the collar itself, and otherwise placed strategically about The Altar proper, serving as Gateway guide to receive the Sulfur sigil Key with gesticulation and Enochian enunciation. The price is well worth the trapezoidal hewn pendant, even completed with 9! I have a feeling something like this may not be ever available again, and I feel in My Drac Senses that it should be possessed by this Sorcerer! Get it or regret it! The double-sided medallion will be a nice keepsake! SO IT IS DONE.

This goes to benefit Les Hernandez's cancer treatment bills. I think that he should transfer that plague onto a detractor! Someone who really deserves it! Combined with drawing their lifeforce! ∞
---
1/13,14: Received the Trapezoid Medallion this infernally blessed rainy 14th day, which actually would have arrived on the 13th, were it not for perfidious habits of frightened lazy mortals. But it shall be considered so, just like trying to ignore the 13th floor! Double-sided thick material, glossy cloisonne' blackground, gleaming silver pentagram opening up to release The Forces of Hell in the name of Satan, by 9 empowered! It shall be worn about the collar as symbolic of the Words of Power there emanating, parting the Portal, directed through therefrom, further activated by the Will and psychodramatic Enochian KEYs of The Sulfur Sigil! SO IT IS DONE! ∞

---
I also acquired two books to gift the plant with for her birthday. Kaji-kani books for her auto didactic study in the proficiency of the Japanese language. She had previously borrowed them from the library, but desires to possess them as her own, and being that they seem to mean that much to her, I acquired them for her incoming birthday.

Fortunately, I have enough in My paypal account to cover this, considering I have been monetarily doing much better with the Opus Draconum lately, and yet another influx is forthcoming!

Perhaps she may acquire a few items I have been desiring as of late, like replacements of My ASP Apparel shirts "I AM LEGION" and "Den Of Iniquity", which disappeared during the move from SLA. And perhaps two other items I have been contemplating, in a black cloth trench coat and black Members Only jacket! ∞

Hail Mammon! Hail Satan!
---
References
Church of Satan History: The Magic Circle / Order of the Trapezoid

The Law of The Trapezoid; The Devil's Notebook, Anton Szandor LaVey.