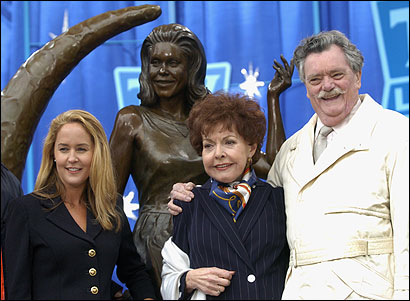 [Former ''Bewitched'' actors Erin Murphy, Kasey Rogers, and Bernard Fox posed at the statue of Elizabeth Montgomery] (Globe Staff Photo / John Blanding)




'Bewitched' statue charms Salem fans


By Kathy McCabe, Globe Staff  |  June 16, 2005

SALEM -- As fast as Samantha Stephens could twitch her nose, a bronze ''Bewitched" statue debuted in downtown Salem yesterday, 35 years after the classic television show filmed a few special episodes in Witch City.

A handful of protesters, upset that a statue of a TV witch will stand in the home of the 1692 Salem Witch Trials, were outnumbered by a crowd of about 1,500 ''Bewitched" fans, who cheered as the statue of the late actress Elizabeth Montgomery, shown sitting side saddle on a broom, was unveiled on a rainy day cold enough to be Halloween.

'' 'Bewitched' is a timeless series," said Larry W. Jones, president of TV Land, the cable television network that put up the statue. ''Today, we're here to honor a character, an actress, and a show that remains close to our hearts."

Mayor Stanley J. Usovicz Jr. accepted the statue on behalf of Salem. ''We do, in fact, have a great and rich history," Usovicz said. ''And there is more than enough room for contemporary art in modern culture."

The ''Bewitched" statue is the fifth ''TV Land Landmark." Others include Andy and Opie Taylor, a tribute to ''The Andy Griffith Show," in Raleigh, N.C., and Mary Richards, a tribute to ''The Mary Tyler Moore Show," in Minneapolis.

Under an agreement with the City of Salem, TV Land will own and maintain the statue, including repairs if it is vandalized. Although guarded overnight by two Salem police officers before the unveiling, there will be no special security now that the 7 1/2-foot-tall, 3,000-pound statue stands in Lappin Park, in the heart of downtown. ''We haven't had major problems with our other statues," said Rob Pellizzi, senior vice president of TV Land. ''We don't expect to have any here in Salem."

Not everyone is pleased to see Samantha land in Salem. Protestors held signs, written in memory of the 20 people falsely accused of witchcraft and executed in 1692. ''Tragedy Is Not a Joking Subject," read one. ''Shame" was written on a white sheet dropped from the window of a fourth-floor apartment across from the unveiling.

Salem police did make one arrest. Richard Sorell, 64, of Peabody, was charged with disorderly conduct after he failed to move his sign out of the view of people gathered for the dedication. Sorell posted $40 bail and was released last evening, police said.

''They're trampling on my heritage," said John Reilly, 49, of Gloucester, who said he is a descendent of witch victims Mary Estes and Rebecca Nurse. He held a sign that read, ''Stanley, It's Not Art," a reference to Usovicz's belief that the statue is more about pop culture than history.

John Carr, a former member of the city's historical commission, criticized the quality of the statue most had never seen before the unveiling. ''I'm more appalled by it than I ever imagined I would be," said Carr, 56. ''The average Salemmite is going to be repulsed by it."

But ''Bewitched" fans, some of whom wore pointy witch hats and T-shirts with the show's logo, clearly were charmed by the tribute of one of America's favorite witches. Schoolchildren waved sparkling stars to the bouncy rhythm of the ''Bewitched" theme song, as the three surviving cast members gathered around the statue of Montgomery, who died in 1995. The three actors were Erin Murphy, who played baby witch Tabitha Stephens; Kasey Rogers, who portrayed Louise Tate, wife of ad executive Larry Tate; and Bernard Fox, the crazy ''Dr. Bombay."

Although the show was set in Westport, Conn., ''Bewitched" in 1970 aired a series of episodes called ''The Salem Saga" that were filmed at several historic Salem sites. Bill Asher, the show's director and Montgomery's former husband, visited Salem in 1970. He thanked TV Land for the tribute. ''It's a wonderful likeness to Liz as Samantha Stephens," said Asher.

Sean McHugh, 39, loved Montgomery so much that he flew to Salem from Florida to see her immortalized. ''She was my dream wife," he said, wearing a matching black ''Bewitched" baseball cap and sweatshirt.
---
* Source