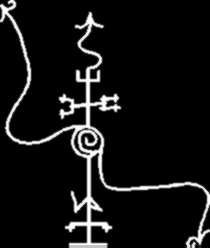 A perfect replica of the mighty & evil Dæmon God statue, used in the film THE EXORCIST, now pedestaled upon the HELLRAISER box on the table beside Me. It looks and feels like stone, with every detail clearly evident, from the erection to the serpent, to the Baphomet gesticulation. It also thus behooves one to acquire a Ouija board placemat for further accentuation.

I have had a very potent cooperation with this Dæmonic egregore. I have always admired the figure, but it wasn't until fairly recently when I really made a connection thereunto, wherein He was summoned to punish certain wastrels, thus gathering up energy and momentum, feeding until further purpose, accessing that energy with justified recourse to punish the teeming masses who would torture undeserving creatures. Thus combined with Camazotz, the patron of the winged creatures of the underworld to bring about plague, which has decimated worthless subhuman lifeforms en masse.

In Nomine Luciferi, PAZUZU, Demon of the Hell Winds, brother to Humwawa, thou directeth plague & drought under Thy Power, thou spinneth in the whirling zephyrs, Thou comest amassed in burning clouds, and devours the rotten under direction of diabolic justice! ∞

Hail Pazuzu! Hail Camazotz! Hail Satan!